Joint Lyonnais Techniques Industrielles specialises in rubber seals.
Joint Lyonnais : manufacturer of rubber seals
JLTI manufactures rubber seals for industry and professional users. All our seals are produced from our customers' specifications. We supply rubber seals to professionals, from SMEs to major industrial groups, in every sector of activity.
Every year, JLTI produces millions of rubber seals for its customers around the world. Our rubber seals are produced in our factories in Lyons and Lille. Our transport facilities enable us to deliver to the entire world.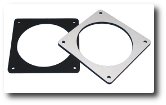 A large range of rubber grades
We have a wide range of elastomers at our disposal for every application, from the most common (sealing gaskets, cushioning seals, trim seals, cable glands, etc.) to the most specialised (seals for extreme conditions, specific compressed rubber content, chemical resistance of elastomers, dimensional or temporal properties, etc.) so as to be able to produce the foam rubber or cellular rubber seal your require for your application.
Optimising the production processes
We supply cut rubber seals and moulded rubber seals (rubber compression or injection) to all our professional customers. We have production facilities for cutting, injection moulding, compression and bonding rubber to different substrates to create rubber seals, and for all current elastomers. The choice of production process for a seal is optimised, to meet your requirements and ensure its cost-effectiveness.
Applications for your rubber seals
Rubber seals are used as much for their sealing properties as for cushioning or trim. We manufacture rubber seals in every size: the morphology of the seal is dependent on your specifications, and we comply with your requirements to respond effectively to your needs.

Meeting your requirements for rubber seals
Your specifications
We follow your specifications precisely to obtain the rubber seals you require: washers, tapes, components from drawings, all items in elastomer.
Compliance with standards
We meet the different standards applying to rubber seals: drinking water, railways, automobile, fire/smoke, etc.
Rubber seals: with or without adhesive?
We use double-sided adhesive that we lay on the rubber or elastomer to obtain the final self-adhesive finished product.
Adhesive rubber seals provide either long term or short term adhesion to a substrate, the latter allows repositioning during application. Contact us for further details: we have stocks of all the adhesives required for all available elastomers, ensuring that we can produce your adhesive seal.
Our quality approach
A quality approach
Each batch of rubber seals is subject to our quality system, from your price request to delivery at your premises or its collection from our factory, as you prefer, to obtain a rubber seal that complies with your demand.
Contact us for your next rubber seal requirements.