JLTI manufactures rubber washers for professionals.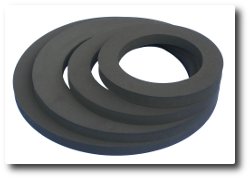 Rubber washers are used as much for their sealing properties as for cushioning or trim. We produce rubber washers in every size, both in terms of diameter and thickness: from a few millimetres to several metres in diameter (above one metre the part is composed of glued sections), and from one millimetre to several dozen centimetres in thickness.
Joint Lyonnais produces rubber washers not only for major industrial groups, but is also the supplier of choice for rubber washers to SME/SMIs in every field of industry.
Our rubber washers meet a wide variety of standards: drinking water, fire/smoke, etc. Please refer to the materials page of our web site.
Rubber washers are produced using the technique which is best suited to the customer's demand: moulding or cutting. The choice depends on your requirements for rubber washers and their cost-effectiveness, as well as by their size.
Of course, all JTLI materials are available for the production of your rubber washer: EPDM rubber, CR, NBR, PVC, silicone, without forgetting all the elastomers available from Joint Lyonnais Techniques Industrielles.
Your rubber washer will be produced in line with our quality approach, from your price enquiry to delivery or collection from our factory, as you prefer.
Contact us for your next requirements for rubber washers.