JLTI supplies EPDM seals and rubber seals to professionals. All our parts (rubber and elastomer seals and tapes, silicone seals, Viton components, EPDM strips) are produced to our customers' specifications.
We comply with all current standards for EPDM seals. Contact us for further information about EPDM rubber standards.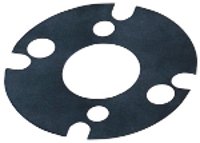 Each batch of EPDM seals follows our quality approach (ISO 9001 V2008).
We hold a very wide range of  EPDM rubber at our disposal for every application, from the most common (sealing gaskets, cushioning seals etc.) to the most specialised.
We supply cut EPDM seals, moulded rubber seals, and are equipped to carry out EPDM injection, compression and rubber bonding to a range of substrates.
Of course, we are experts in all types of cutting for EPDM seals, for short, medium and large batches of EPDM rubber products.